Met Council Admits to Trying to Clear the Road of Cars
December 12, 2013 at 7:48 pm 1 comment
By Andrew Richter
Is the Met Council finally admitting the truth???
Buses, trains and other modes of transit carry more people more efficiently – a point that was made vividly clear in an image that recently circulated on the Internet.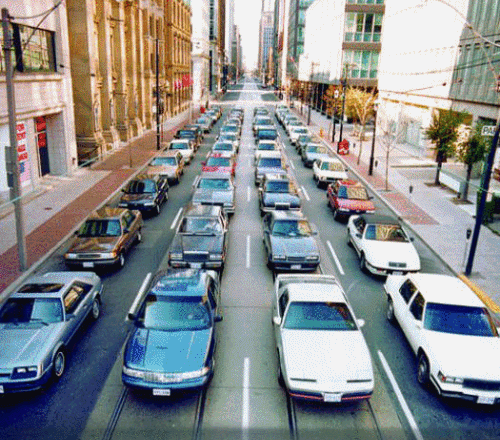 The image sets side-by-side the amount of road space consumed by single-occupancy vehicles, pedestrians and a rail car, creating a contrast that helps underscore the impact transit can have on crowded streets.
Though it's not always so obvious, the efficiency on display in the image plays out daily in the Twin Cities as buses and trains travel throughout the region and allow people to share the ride (40-foot buses can carry 40 seated customers).  
Creating more space on the roads is particularly important during rush hour but can have a meaningful impact at all times. Reducing congestion allows trucks and other commercial vehicles to move more freely, helping the local economy. Police, firefighters and medics can respond better during emergencies. And the environment benefits from lowered emissions.
Yes, when all other arguments fail try and scare people claiming police and fire can't get through. Plus public transit gives you the excuse to put up high density housing and mixed use. At least the Met Council is finally telling the truth.
Entry filed under: Agenda 21, City Government, County, Environment, Met Council, Transportation.